[contact-form-7 id="3403″]
Brown Tree Service
It has been our mission to provide the best tree services to the Chicagoland suburbs for over 30 years.  We are the number one choice for all tree services in your local area. Our crews of trained expert arborists have the expert knowledge you need to rely on when it comes to your tree. When you choose Brown Tree Service you are choosing:
Licensed and Certified Arborists for Your Home or Business
5 Star Service On Google
Safety and Expert Knowledge for Every Service
A Plus Rating With the BBB
5 Star Rating On Yelp
Quick and Reliable Technicians To Service You Quickly
Call Brown Tree Today and let us show you the difference between a tree service that doesn't care and one that does. We are a cut above the rest!
Certified Aborists
Kenneth Brown: IL #0596
Martin LaBahn: IL #0498
FULLY LICENSED, INSURED AND BONDED TREE SERVICE
Servicing your commercial and residential needs is our top priority. Whether your needs consist of tree removals, tree trimmings, stump removals, or any other tree services, our expertise and quality of service are unmatched in the tree industry. We value every client's time and business. Contact us today for a free estimate!
Used Brown Tree Before?

 

Please Leave Us A Review Right Now!
(Receive Your $10 Gift Card! Please just reference your invoice number in the review so we know where to send it!)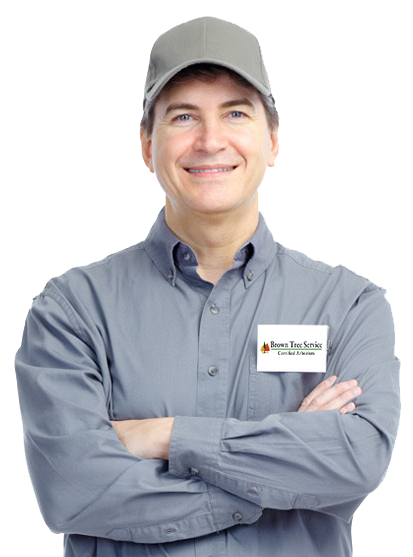 When Should I Contact a Tree Service?
Trees are a great way to fill your yard with landscaping, provide shade, and make a more pleasing aesthetic to your home.  Like any living organism, sometimes trees can get sick, and start to decline based on age or a possible disease. Trees are particularly affected by certain problems due to the climate, local area plant diseases, and wildlife.  When should you contact a tree service? Below is a list of things to look for that will give you some indication of when to call your local tree service.
Common Tree Problems
Following is a list comprised from tree service companies in the area that gives you an idea of what can be affecting your tree and the warning signs for you to know when to call your local tree service;
Ceratocystis– Is a fungus that grows on trees which will turn the leaves to yellow when the rest of the tree is green.  When you notice leaves starting to turn green and brown and it does not fall you should call your local tree service out to take a look to see if you are plagued by this fungus. This fungus will attack Oak Trees more and sometimes is known as "Oak Wilt".
Chlorosis– This disease is also commonly a plague of Oak Trees, Pin Oak Trees in Particular.  This is a condition the tree suffers when there is not enough chlorophyll in the leaves, causing the leaves to turn yellow in color which will affect the tree from the top down. Chlorosis is commonly caused by higher acidic rates in soil around the tree.  This is the reason it mostly strikes Pink Oaks because they need this type of soil in order to grow. Chlorosis should be looked at by a tree service professional.
Rhizosphaera Needle– Fungus in the needles surrounding spruce trees.  This fungus then grows up the tree and causes the needles to turn a brown color.  This will cause a very unsightly spruce true in your yard. If you see your spruce tree turning brown and spotty then consider calling a tree service company in your area to come out and take a look.
Stem Roots– Stem roots are roots that grow up and out of the ground and then around the tree trunk.  By doing this you, it prevents the water from getting underneath the tree in order
Japanese Beetles– The most common insect to plague trees in Northern Illinois, the Japanese Beetle will destroy the entire tree.  It feeds on more than 300 species, and during its life cycle as a gurb will devour the root system for a tree and as an adult the leaves and bark.  Infestations usually work its way from the top of the tree to the bottom of the tree, so getting rid of the problem is hard. An excellent tree service company can help you with these little buggers.
Topping– Topping is the only man-made problem on this list.  Topping is cutting down the branches of a tree to much so there is nothing left.  This causes the tree to dry out and not replenish itself. Using a tree service to cut down that front lawn tree is much better than to try it yourself because you can avoid this common problem.
Tree Service
Tree services can help you with these problems and many more.  To find great tree services you can check out your Buyer's Choice: A Guide to Consumers or use one of the many great tree service companies on this page.  Tree services were never so easy to find, and armed with the knowledge of this diseases you can pinpoint the problem with your tree and expertly and effectively explain your problem to your tree service helping you with more reliable and expert service.
General Liability Insurance

Brown Tree Service is fully insured for your protection.

Worker's Compensation

We provide worker's compensation insurance for all of our tree service employees.

Member of ISA, TCIA and SCA

We are Members of Tree Care Industry Association, and our employees are members of the International Society of Arboriculture and the Society of Commercial Arboriculture.

Certified Arborist

Full time ISA Certified Arborist on staff.

Certified Treecare Safety Professional on Staff

Brown Tree Service owner and ISA Certified Arborist. Ken Brown is a "Certified Treecare Safety Professional" (CTSP) through the Tree Care Industry Association (TCIA).

TCIA Qualified Tree Crew Leader

Brown Tree Service has a TCIA Qualified Tree Crew Leader on staff.

Satisfaction Guarantee

Personal guarantee of your satisfaction with our services by CEO Kenneth Brown.

BBB Accredited Business

We are an established Tree Service business and have an A+ rating with the Chicagoland BBB.
AVOID THE RISKS IN HIRING AN UNLICENSED CONTRACTOR
Kenneth Brown: IL #0596
Martin LaBahn: IL #0498