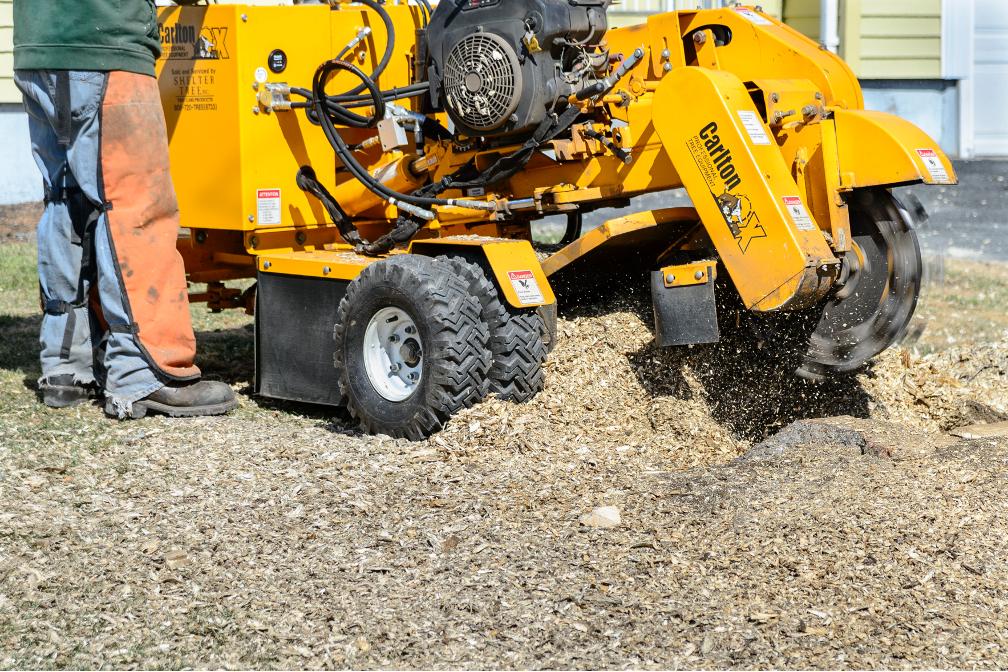 A tree stump on your Buffalo Grove property may not be a nuisance at first, but it may become one in the future. This is one of the main reasons why it's best to have them removed early on. Doing so not only improves the aesthetics of your yard, but it also ensures the safety of your family members and neighbors.
When dealing with old stumps, you have two options — you can either grind them down or remove them. Do you need help deciding which option is best for your situation? This stump removal company in Buffalo Grove, Illinois is going to discuss everything you'll need to know below.
What is the difference between tree stump removal and stump grinding?
Stump grinding is a complex process that excavates the tree stump without removing the root. A stump grinder is used in this method to grind the stump down to the desired height — it could be 12″ underground or just 1″ below the soil level. Stump removal, on the other hand, entails extracting the stump off the ground. This method often requires using a great deal of force and more powerful machines.
The most significant difference between the two is that stump removal takes more time and effort. While stump grinding can be done with minimal disruption to your Buffalo Grove property, stump removal can take several days. If you are unsure which tree stump excavation method is best for your situation, your local stump removal company in Buffalo Grove, Illinois can help you decide.
Which method is better?
Both stump removal and stump grinding have their upsides and downsides. Choosing the best method is dependent on your landscaping design and if either one will interfere with it.
Because it entails pulling the stump and digging out all the roots, tree stump removal can be intrusive. It also requires a significant amount of time and elbow greases to complete. On the bright side, you are left with a blank canvas, allowing you to do anything you want with your landscaping.
On the other hand, the stump grinding method is far less tedious — it is much quicker and easy for a professional stump removal company in Buffalo Grove, Illinois to carry out. The primary drawback is that you cannot replant a tree at the location of your choice.
Why we don't recommend leaving a tree stump alone
After being removed from the tree that formerly stood in your yard, tree stumps begin a protracted decaying process. Problematic pests such as termites and carpenter ants will eventually set up camp inside the decaying tree stump. And though you can leave the stump alone, the pests could find their way to other areas of your yard or even into your home. Because stump removal eliminates both the root and the stump, there is no potential for regrowth or sprouting. Therefore, this stump excavation method can help you avoid any problem that could come with leaving your tree stumps behind.
Lastly, it's worth mentioning that stump removal can be a daunting task to do on your own. It's better to leave these types of tasks up to a professional stump removal company in Buffalo Grove, Illinois.
Looking for a Stump Removal Company in Buffalo Grove, Illinois?
Do you have a tree stump in your yard that needs to be removed? If so, and if you're looking for professional stump removal company in Buffalo Grove, Illinois, Brown Tree Service is the company to call. If you have any additional questions about our stump grinding or stump removal services, please do not hesitate to get in touch with our arborists. Contact us today to request a free estimate.